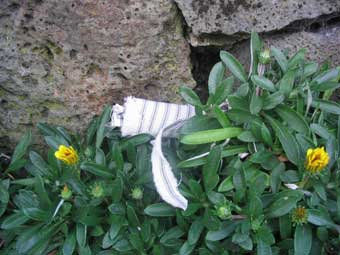 Found: in the park at the St Kilda Foreshore by a person unknown.
Contents: Three, one pound notes, one shirt button and one Situations Vacant Column from the Argus Newspaper – January 1957
Cracks in the Pavement observes that if any of art works are not found they will weather and change in the landscape. This is not the fate of 'Stash'. All three pieces were found. If the remaining two are not understood, I hope the one pound notes are exchanged at the currency shop and the finder/keeper has a good drink on me. After all you can't dictate how people respond to art.
posted June 8 2005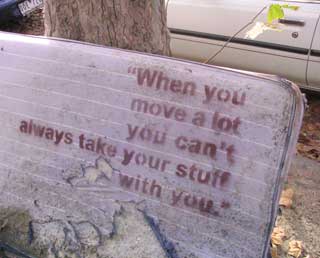 Acland St
posted May 29 2005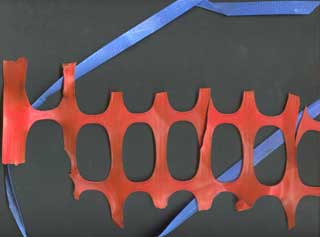 Found: everywhere
posted May 26 2005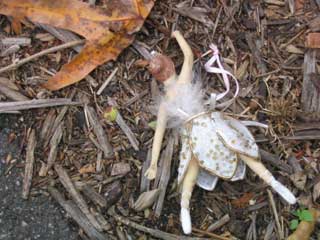 Found: St Kilda 'Beat'
posted May 19 2005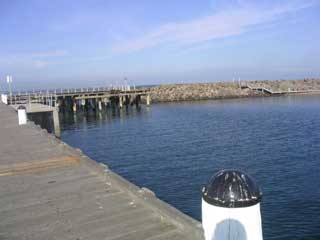 No kiosk, just the place where it has been.
When the kiosk on the St Kilda Pier was burnt down in September 2003, the landscape changed and I didn't properly understand the landmark until it was gone. It's only now I realise that seeing the kiosk in the same place gave me a sense of certainty in the world. Even the day my car radio told me about 2 planes hitting the Twin Towers, as I passed, Kirby's Kiosk was still there, as always.
They are going to rebuild the kiosk but it won't be the same. In the meantime part of the pier has been preserved because artist Julie Gough collected charcoal to do some drawing.
posted May 16 2005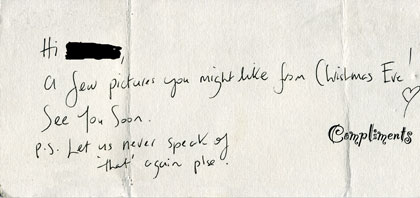 Found: Acland St
…………….and there was more on the back.
posted May 3 2005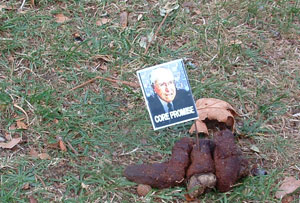 Found and photographed in Blessington St by Vidi Chandra
posted May 2 2005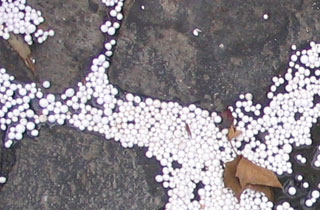 Found: Jackson St – Worst bean bag
'One Degree of Separation' exhibiton at Theatreworks – 14 Acland St St Kilda
or click here to access the show online.
posted April 24 2005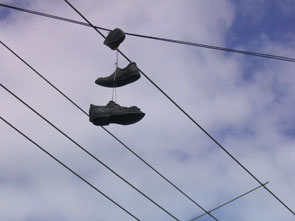 Found – Havelock St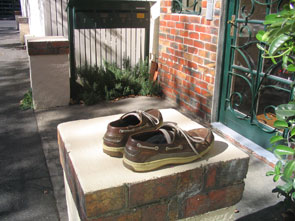 Found – Foster St
posted April 22 2005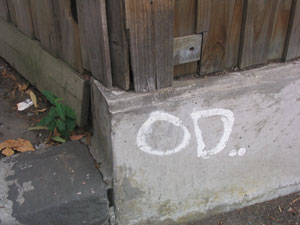 Found – Corner of Blessington Way and Carlisle Sts.
I don't know how long this has been there because when I pass this corner I always notice the working girls and not the surrounds.
posted April 13 2005
Sitting on his chair at his table, his grey stringy hair and his rounded shoulders. A shirt or two on a coat hanger, or two, hanging in the window. Five or six tins of things – milo, tomatoes, coffee, soup – in small stacks in his room. A picture in a frame on the wall. I'd walk past his place most days. I'd see him through his window, in his room, his grey stringy hair, his shoulders rounded, leaning over his table with his pen in his hand. Sometimes just standing, or combing his hair. He'd walk up the street heading home carrying a plastic supermarket bag or two, or three, with supermarket things in it, or them, most days.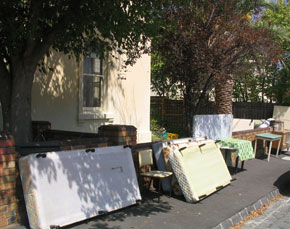 Then I didn't see him for a while. I saw him again a few weeks later when I was walking up Mitchell Street one day. There was a young woman with him who had curly hennaed hair and was wearing black-rimmed glasses. He had a suitcase in either hand and was about to load them into the boot of an old orange Datsun. The back seat was piled with boxes. I walked past his place. I looked through the window. There were no stacks of tins, no table, no chair and a light-coloured rectangle on the wall where his framed picture had been. When I was halfway to the supermarket the orange Datsun drove past me. The curly-haired woman was driving. He was in the passenger seat, his rounded shoulders, his grey stringy hair combed back. The next day, furniture and mattresses and stuff were in the garden of his rooming house. I took a wooden chair with a blue seat home. I saw two people carry a table down the street. The house which was his home, a big old rooming house, in which quite a few people had lived, sold for $2.8m.
Written by Moira Burke
posted April 12 2005
My apologies to anyone who has tried to comment on this blog until now. Your registration details were never recieved, hence no reply. I can't help but wonder where they went.
It makes me think about my cousin who works on mobile phone billing softwear. She told me a story about how, despite the phone companies vigilance to make money, some calls are never billed. This unaccounted for venue is in a 'bucket'. I always imagined these buckets full of coins dangling up there in the ether. Maybe it is accompanied by a paper bag full of registration details.
The system has been simplified and now you can just type away.
I look forward to your comments. Please contribute any memory, story, opinion or ideas this blog provokes. It doesn't have to be about St Kilda.
posted April 7 2005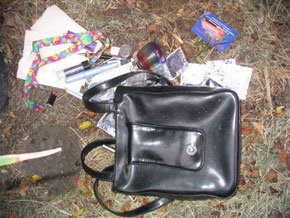 We found it outside our bedroom window in the morning. It looks like everything is there except the cigarettes and the purse.
The inventory is complete: condoms, lubricant gel, Tic Tacs, key chain with a whistle, cigarette lighter, lippy, mascara, cologne. and instead of tissues a bunch of white serviettes.
All that work for nothing.
posted March 15 2005
In July 3rd 2004, twelve substantial apartments go on the market. Within days of being sold 22 residents receive an eviction notice. Some of them have been living at Clarendon for more than 20 years. Some love St Kilda so much they pay the extra money to stay. Others move as far away as possible, the process has been too painful.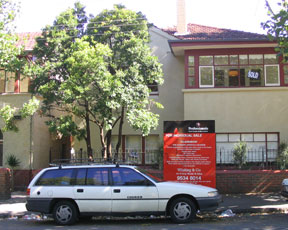 By February 2005 Clarendon, the 'ultimate lifestyle location' goes on the market within weeks, most are sold. Some of the new neighbours have started moving in. J wonders what they will think about the dealers in the Seven Eleven carpark next door.
posted March 14 2005
Found – St Kilda Overpass – Upper Esplanade
'Father Exclusion is Child Abuse'
Charlie knows: St Kilda is a great location for promoting a product.
J wonders if this message is for the tourists or for locals.