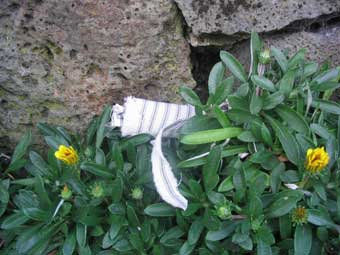 Found: in the park at the St Kilda Foreshore by a person unknown.
Contents: Three, one pound notes, one shirt button and one Situations Vacant Column from the Argus Newspaper – January 1957
Cracks in the Pavement observes that if any of art works are not found they will weather and change in the landscape. This is not the fate of 'Stash'. All three pieces were found. If the remaining two are not understood, I hope the one pound notes are exchanged at the currency shop and the finder/keeper has a good drink on me. After all you can't dictate how people respond to art.
posted June 16 2005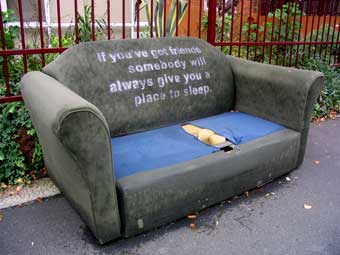 Carlisle St
posted June 15 2005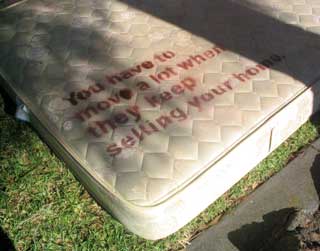 Pakington St East St Kilda
When J went back to take another photo somebody had covered her stencil by leaning the mattress against a wall. She left it as it was. It wasn't her turf.
posted May 25 2005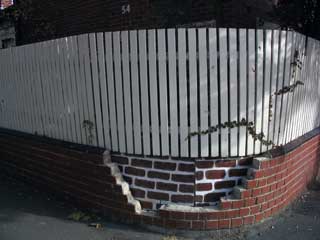 Found: Blessington St
posted May 23 2005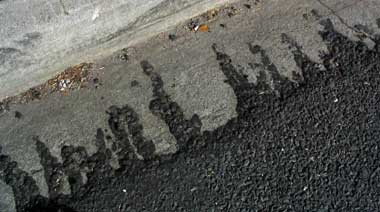 Found: Martin St
posted May 17 2005
Found: somebody's front window
posted May 10 2005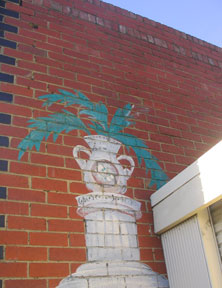 Found: Bedford St Collingwood
posted May 5 2005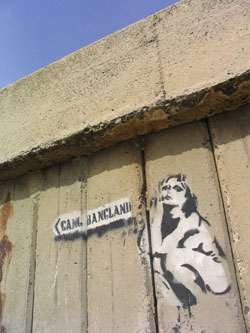 I always respond to images first. So when I saw this on the pier as winter looms I made up my own text…'last bather of of the season'. So it wasn't until I got home that I read the image properly. I hate it and apart from the obvious reasons it reminds me that a friend of mine was raped on St Kilda beach in the 80's. She is just one of many in the days of St Kilda 'badlands'.
See Memory Packs website: experimenta.org/gallery/memorypacks/clar/clar-caro.html
changed meaning November 2005
posted April 27 2005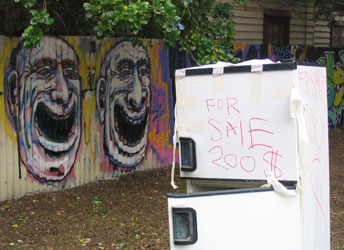 Found in the carpark at Balaclava Station
Charlie says:
"Things aren't quite what they seem".
Originally posted 11th March
posted April 26 2005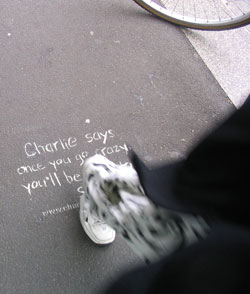 Charlie says
Once you go crazy,
you'll be able to see
www.charliesays.com.au
Found near the corner of Carlisle and Blenheim St, Balaclava
J thought she'd found a bit of authentic St Kilda. She knew that the big media companies often appropriated street art forms. As she contemplated the possibility of being scammed she figured at least it wouldn't be American because it had an .au address.
The art work, as it opened was high end…… then the sound file started "do you like playing games?" in the same terrifying voice as the kid in Sixth Sense.
"No", she felt liking yelling "and I especially don't like being played around with". She navigated the site and was none the wiser about what they were selling.
Inspite of herself, J did what the marketers had anticipated and she hit Google…………they were flogging a telephone.
Originally posted March
posted April 25 2005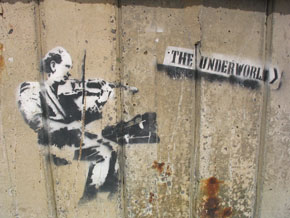 Found – St Kilda Beach on the side of the little pier near Luna Park.
Can artists still afford to live in St Kilda?
'One Degree of Separation' exhibition at Theatreworks – 14 Acland St St Kilda
or click here to access the show online
posted April 14 2005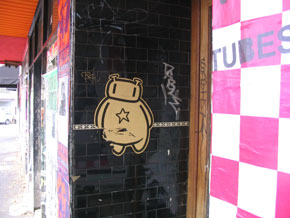 Found: corner Grey and Barkly Sts – next door to 'building to be demolished'
posted March 17 2005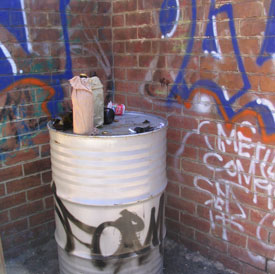 There's nothing like a laneway in the urban setting but J reckons the alternative entrance to Safeway off Acland St is a real stinker. The dumpsters from the supermarket are disgusting but it's a great cut through from to Vegout Community Garden. This little arrangement brightened her day.
posted March 15 2005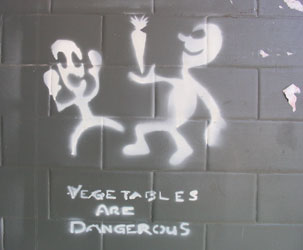 Found – Carlisle Street 'beat'
posted March 14 2005
Found – St Kilda Overpass – Upper Esplanade
'Father Exclusion is Child Abuse'
Charlie knows: St Kilda is a great location for promoting a product.
J wonders if this message is for the tourists or for locals.