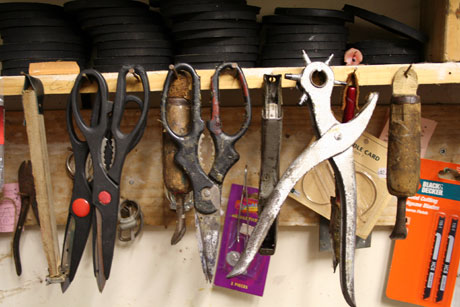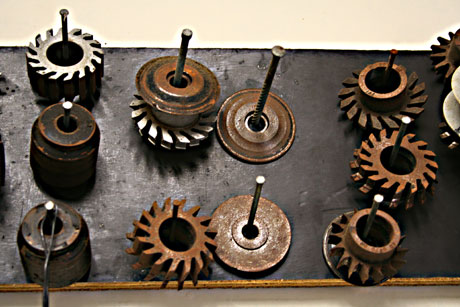 She returned to pick up her sandals and rang on the door bell.
"Come in", he said, "I just have to finish the stitching."
"Come out the back and I'll show you where I work."
"Did you originally have a shop?" she asked.
"Yes", he replied "in Bridge Road Richmond – for 40 years. Now I am retired but life doesn't go as you expect, so I do a little work from home."
"You must have seen a lot of change in Richmond," she commented, "like when they built the high-rise."
"Yes" he said, "they just took the people's houses and knocked them down. All those people, they got nothing for their land. Government couldn't do that these days."
"Do you like tomatoes", he asked. "I get a bag for you. I've got too many."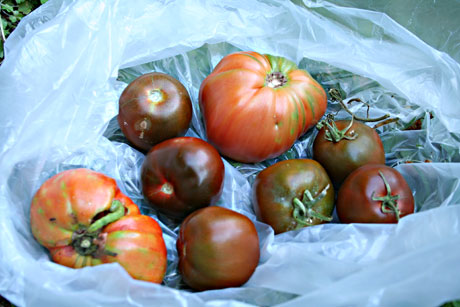 posted March 10 2006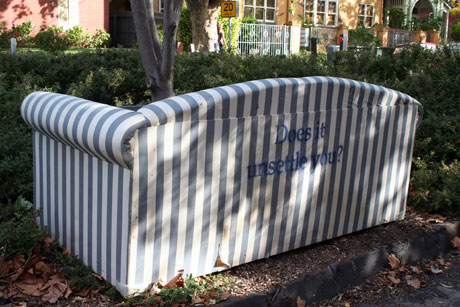 "What are doing?", he asked, as she was pinning on the stencil.
"It's just a bit of temporary art in a public space", she replied.
"Did you put the couch there?"
"Oh no", she said "it's just been dumped. Lots of people move in out of the area, the rents keep going up or maybe somebody got a new couch and didn't want the old one."
"Is it a bit of agit-prop?", he enquired.
"No", she said, "it's what ever you want to make of it, however this is a sex beat."
"Oh" he said "I did notice that."
When she told him that there was more work on a website he asked for the address as she finished taking her photos.
Suddenly he said, "you're Julie Shiels".
"How do you know?" she stammered, part surprise, part horror. "I just looked it up", and he showed her the site from his mobile phone.
"Can I take a photo too?" he asked "my wife's an artist, I think she'll like this".
posted February 25 2006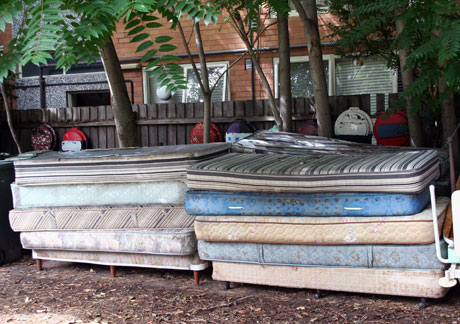 When there's a pile of mattresses in the street it's usually a sign that another boarding house is closing down and will be turned into apartments. Not so this time, local council bought this one and is giving it a makeover including new mattresses for everyone.
posted February 15 2006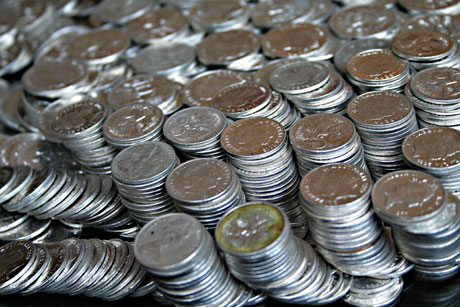 It took a week for J to count all of the coins he'd given her.
"I'm sorry I took so long" she apologised as she handed over the notes.
"Don't say sorry" he said I'm glad you didn't give me the money the other day. It was that hot," he continued, "so I went to the TAB just for the airconditioning and blew all my money.
I'd managed to stay away from the Pokies for 44 days. Did the lot in two and half hours …. all the money I saved"
posted February 7 2006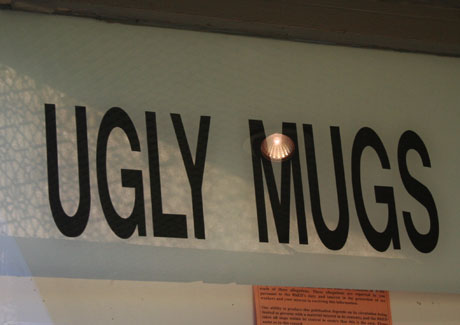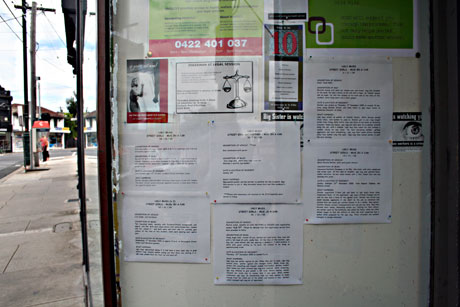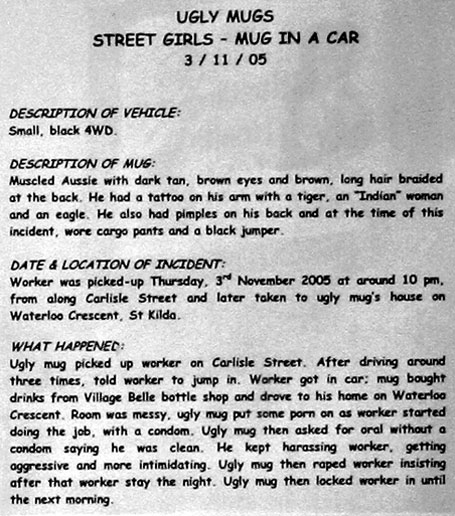 posted January 27 2006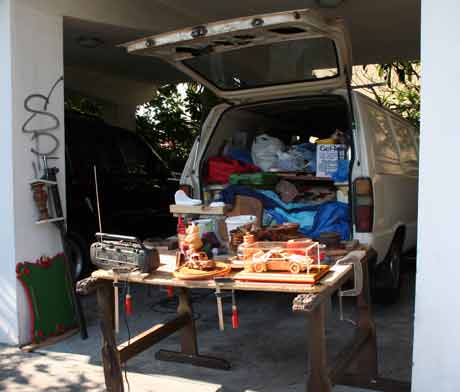 …. but there is always a carspace under a block of flats. This one is on the corner of 2 busy roads in East St Kilda. When J asked the price of an inlaid bowl he said, "you wouldn't be able to afford it, only people in Europe know the real worth of this type of work."
He then produced a miniture bundle of photocopied sheets neatly stapled at the top.
The text was blurred and the images bleeding at the edges as a result of being reproduced over and over again. In amongst the drawing and photos was this story.
When the client who was shopping for for furnishings in Vienna chanced to meet a friend who was a wealthy business man, he said, "don't waste your time with this stuff. There is this guy in Australia who's name is Imre Carugo, he does beautifully inlaid marquetry handcarving furniture individually designed top Quality Master Pieces."
posted December 7 2005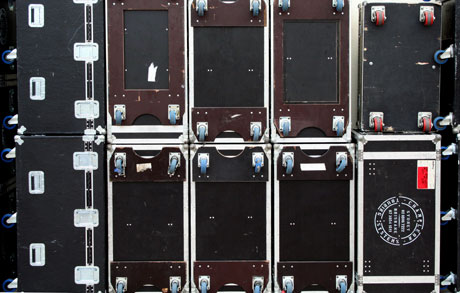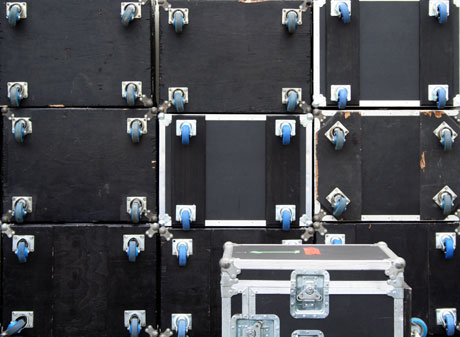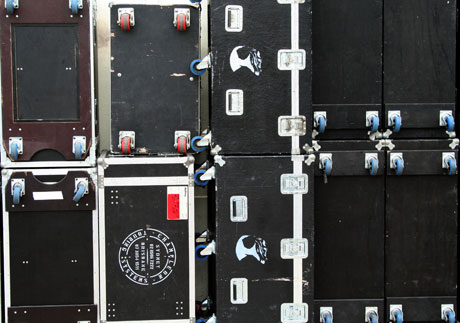 Found: A wall of speakers waiting to be bumped into the Palais Theatre for a pop concert.
"Who are you and what are you doing", demanded the man with an official number pinned to his white shirt that was straining to cover his over-blown chest.
"I'm a local artist and I'm taking photos of the speakers", answered J politely.
"Well, you're not allowed to", he replied curtly.
"Why not" said J.
"Management has said you can't take photos", he came back with all the confidence of somebody who inhabits an enormous body.
"I'm terribly sorry", said J who was starting to get a little heated, "there is no law that says I can't take a photo in a public place".
"Well you can't", came the reply, "do you want me to call management?"
"Yes", said J "and you can call the police too and they will tell there is no law that stops me from taking a photo in a public space".
By this stage a few roadies who were standing around started buying into the argument, J might be small but she wasn't backing down. So one bright spark chimes in, "you have to be 10 metres away from the truck because a bomb is going to go off."
Realising how stupid this sounded he came up with an amended version and said, "you're not allowed within 10 metres of the truck when we are unloading."
J just shook her head in wonder, took a few more photos and walked off.
posted November 17 2005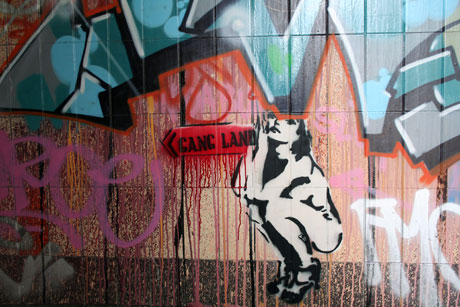 Changing the meaning: gang bang no more.
posted October 17 2005 He was standing at the entrance of Balaclava Station with a stack of leaflets
handing one out to anybody who passed. They were completely blank.
"Why are you doing this?", she asked, hoping it was some kind of performance piece.
"God loves you", he said.
J looked at him closely to see if he was 'gamming' but his blissed out smile indicated the contrary.
"Do you do this all the time?" she enquired politely.
"No, this is my first day", he replied.
"Will you come back tomorrow?", she asked.
"Yes", he said "but only if God asks me".
posted September 7 2005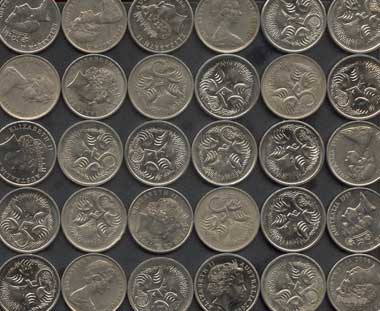 "Your little boy's got a money box hasn't he?
Give him these. The supermarket won't let me pay with this amount of change", he said. "It happened the other night, I was so upset I went home with out my dinner and haven't been back since".
"Can I tell you another story? he continued. "One day this fellow gave me five cents…I'd just sung 3 songs for him and he asked for change. I was so annoyed that I said, 'you can keep it then' and flicked it back. But you see the angle was all wrong and it hit him on the nose, not hard or anything like that. Then the bugger called the police. Luckily only one copper came and told me to be more careful and stay out of trouble.".
posted September 6 2005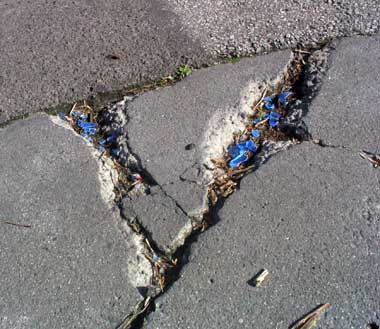 Most sex workers workers use heroin. Most women use heroin because they have been sexually abused. Most sex workers are regularly raped.
posted August 22 2005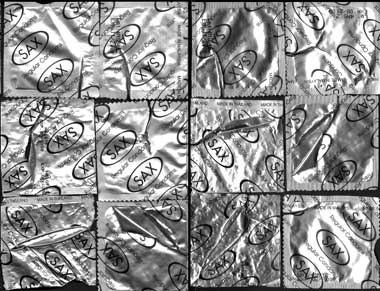 One night's work
posted August 16 2005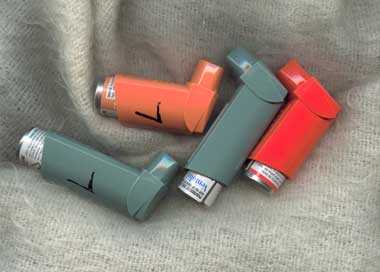 posted August 9 2005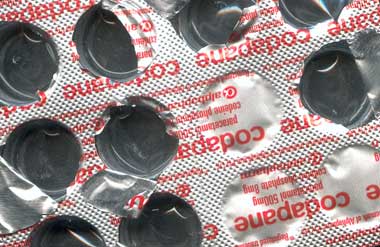 The artist reflects on her own mattress.
posted August 3 2005