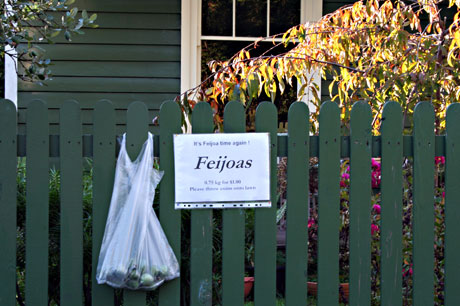 It's feijoa time again.
$1 for .75 kg. Please throw coins onto lawn.
As J was taking the photo A stopped on her bike.
"Isn't it great", she said, "my daugther S helped pick the fruit this year".
"She collected a whole pile of plastic bags all ready for the harvest. Yesterday she waited all day for the owners to come home. Then they filled 15 bags and look, now there is only one left and everybody just throws their money on the lawn," she exclaimed. "My daughter thinks this house is the most magical place in St Kilda."
Click here for stories and comments from last year's feijoa time.
posted March 22 2006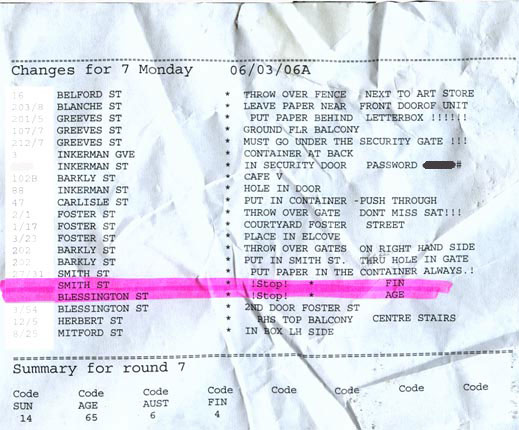 Maybe the paperboy deserves a raise.
posted March 15 2006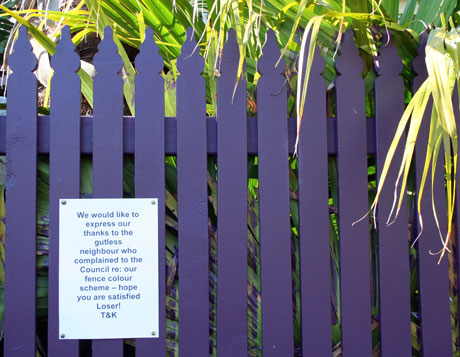 A matter of taste or a question of manners?
posted March 6 2006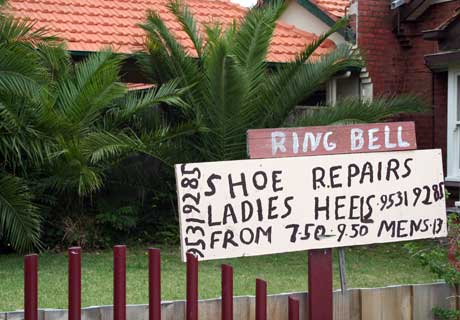 posted February 7 2006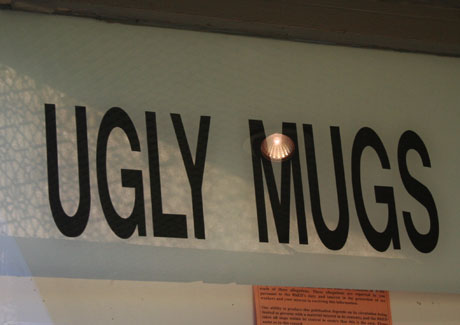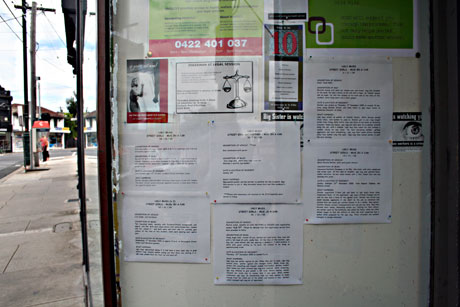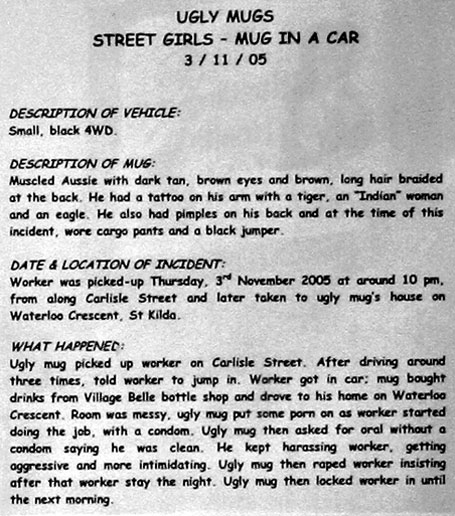 posted January 6 2006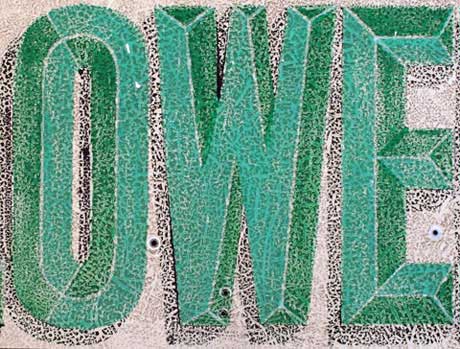 Found: Back lane behind Brighton Rd
posted December 13 2005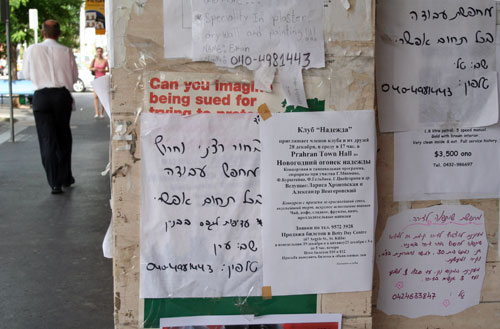 Russian Deli – East St Kilda
Carlisle Street is looking more and more like a yuppie cafe strip but you can still do your shopping there. and find the all the services you require.
posted October 17 2005 He was standing at the entrance of Balaclava Station with a stack of leaflets
handing one out to anybody who passed. They were completely blank.
"Why are you doing this?", she asked, hoping it was some kind of performance piece.
"God loves you", he said.
J looked at him closely to see if he was 'gamming' but his blissed out smile indicated the contrary.
"Do you do this all the time?" she enquired politely.
"No, this is my first day", he replied.
"Will you come back tomorrow?", she asked.
"Yes", he said "but only if God asks me".
posted September 27 2005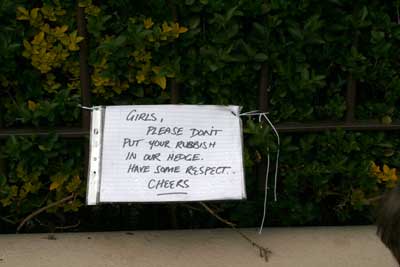 Found: Carlisle St 'beat'
posted September 14 2005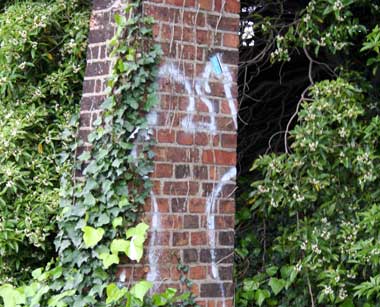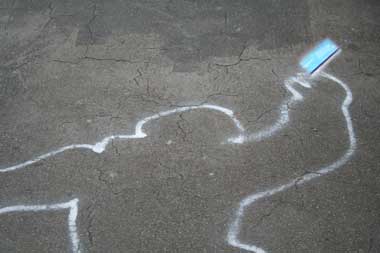 Found: Balaclava Station
posted August 30 2005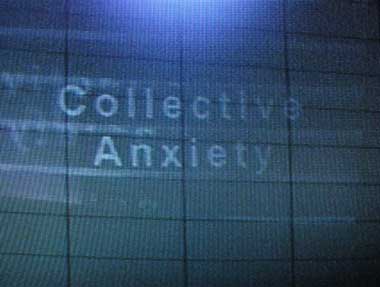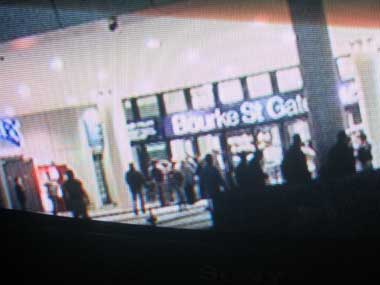 Telstra Dome – Saturday 7.15 pm
posted August 25 2005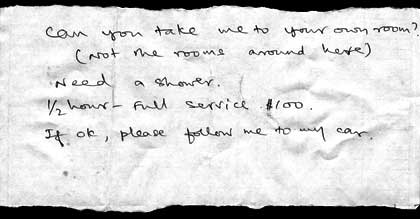 Only 2% of sexworkers in the St Kilda area actually live here…they can't afford it.
posted July 11 2005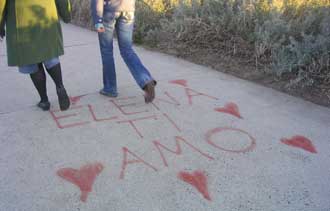 Found: Elwood Beach
posted June 22 2005
After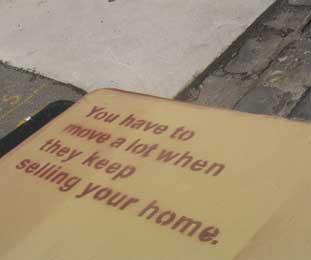 The blokes outside the plumbing shop were watching as the stencil went down. One guy said "what's that, some sort of electric bed?" The others didn't say anything.
Before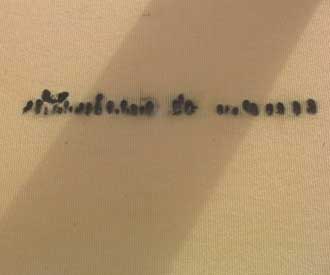 Vale St: When J flipped the mattress base over she thought it was a stencil. On closer inspection it was a series of tiny burnt holes. There was a control panel built into the side panel.
posted June 2 2005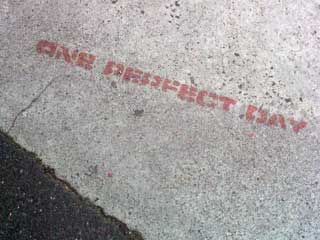 The thing I love about St Kilda is that we share it. We share it with the tourists on sunny days. We share it during the St Kilda Festival, the Gay Pride march and the Grand Prix. With sharing comes variety and excitement, the petrol heads can enjoy the pride march and the pride marchers can enjoy the petrol heads – what ever revs your engine!
St Kilda also has different shifts: day, afternoon and night. They have distinct moods. Sometimes the shifts don't mix and you end up in a shift you don't want. But like Melbourne weather you just have wait and another shift will come along.
I'm happy to share St Kilda – even with families from the 'burbs.
Greg Day