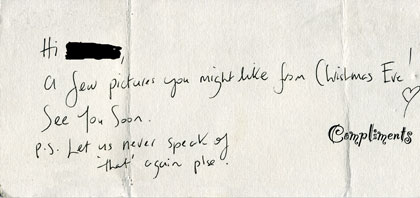 Found: Acland St
…………….and there was more on the back.
posted May 4 2005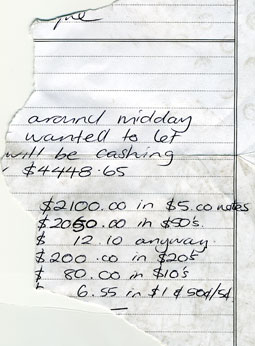 Found: Acland St
posted May 3 2005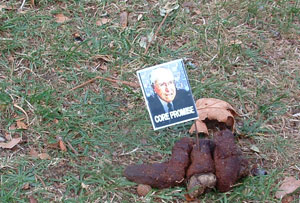 Found and photographed in Blessington St by Vidi Chandra
posted April 29 2005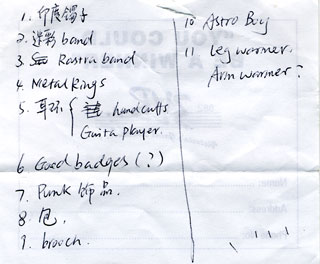 Found: Grey St
posted April 27 2005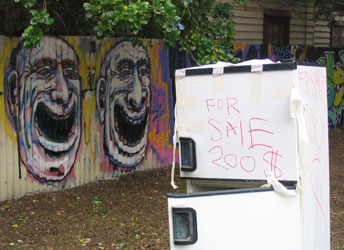 Found in the carpark at Balaclava Station
Charlie says:
"Things aren't quite what they seem".
Originally posted 11th March
posted April 26 2005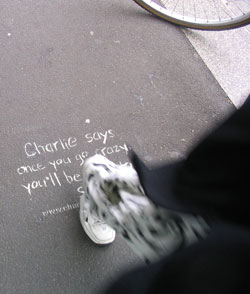 Charlie says
Once you go crazy,
you'll be able to see
www.charliesays.com.au
Found near the corner of Carlisle and Blenheim St, Balaclava
J thought she'd found a bit of authentic St Kilda. She knew that the big media companies often appropriated street art forms. As she contemplated the possibility of being scammed she figured at least it wouldn't be American because it had an .au address.
The art work, as it opened was high end…… then the sound file started "do you like playing games?" in the same terrifying voice as the kid in Sixth Sense.
"No", she felt liking yelling "and I especially don't like being played around with". She navigated the site and was none the wiser about what they were selling.
Inspite of herself, J did what the marketers had anticipated and she hit Google…………they were flogging a telephone.
Originally posted March
posted April 22 2005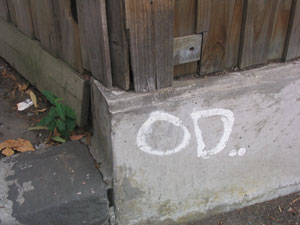 Found – Corner of Blessington Way and Carlisle Sts.
I don't know how long this has been there because when I pass this corner I always notice the working girls and not the surrounds.
posted April 14 2005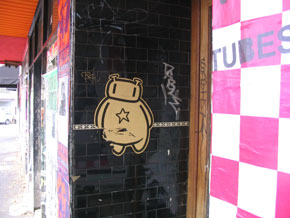 Found: corner Grey and Barkly Sts – next door to 'building to be demolished'
posted April 6 2005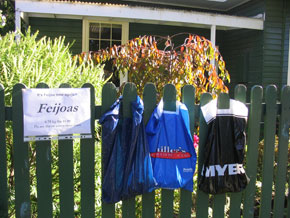 Found – Blessington St
It's Feijoas time again!
Feijoas
0.75 kg for $1.00
Please throw coins onto lawn
posted April 5 2005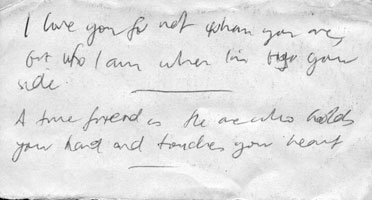 Found – Barkly St
I love you for not whom you are, but whom I am when I'm at your side.
A true friend is one who holds your hand and touches your heart.
posted April 1 2005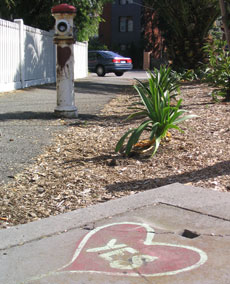 Found – Foster and Carlisle St beat
Are you still together?
posted March 31 2005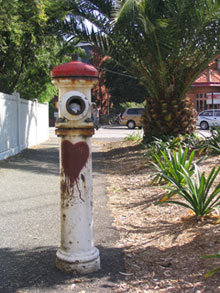 Found – Foster and Carlisle St beat
posted March 30 2005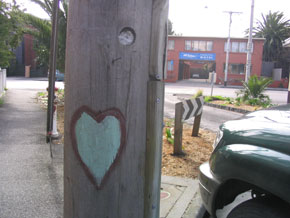 Found – Foster and Carlisle St beat
(not for the working girls)
posted March 29 2005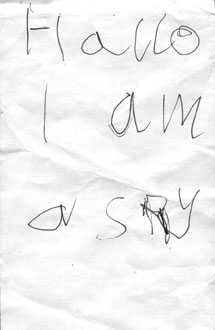 Five years ago a man broke into our house. It was around midnight and I got up to go to the toilet. I was half asleep. As I walked into the bathroom I saw a figure move. I said my husband's name P, but there was no reply.
I walked out of the room and went looking for P, he was in another room. I said "there's a man in the toilet". P looked at me as if I was dreaming and pushed ahead. I stumbled behind, searching, "why is that man in our bathroom?"
At that moment a hooded figure burst out of the room, hand raised. As he brought the screwdriver down, I was sure he was here to kill P. I screamed and begged "please don't hurt him". As he looked at me, I realised it was a bungled robbery. I got between them and flung open the door. "Get him out, get him out", I shouted.
A couple of months later I found this note in the letter box. I was terrified, now I just laugh.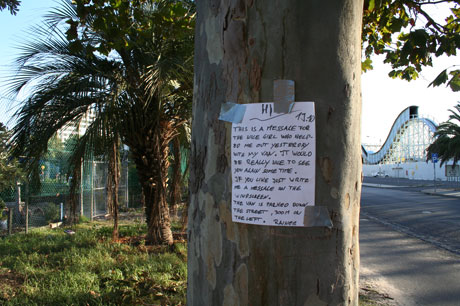 This is a message for the nice girl who helped me out yesterday with my van.
It would be really nice to see you again sometime.
If you like just write a message on the windscreen.
The van is parked down the street.
Found – Shakespeare St