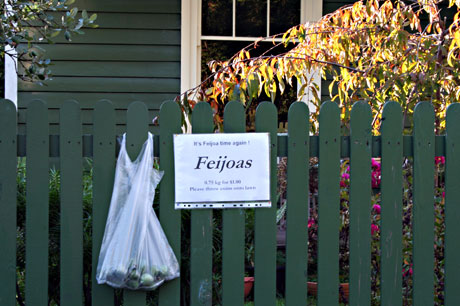 It's feijoa time again.
$1 for .75 kg. Please throw coins onto lawn.
As J was taking the photo A stopped on her bike.
"Isn't it great", she said, "my daugther S helped pick the fruit this year".
"She collected a whole pile of plastic bags all ready for the harvest. Yesterday she waited all day for the owners to come home. Then they filled 15 bags and look, now there is only one left and everybody just throws their money on the lawn," she exclaimed. "My daughter thinks this house is the most magical place in St Kilda."
Click here for stories and comments from last year's feijoa time.