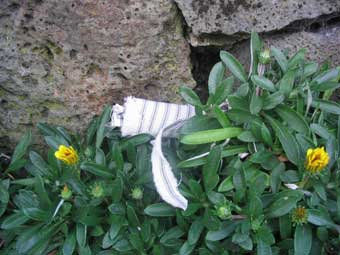 Found: in the park at the St Kilda Foreshore by a person unknown.
Contents: Three, one pound notes, one shirt button and one Situations Vacant Column from the Argus Newspaper – January 1957
Cracks in the Pavement observes that if any of art works are not found they will weather and change in the landscape. This is not the fate of 'Stash'. All three pieces were found. If the remaining two are not understood, I hope the one pound notes are exchanged at the currency shop and the finder/keeper has a good drink on me. After all you can't dictate how people respond to art.