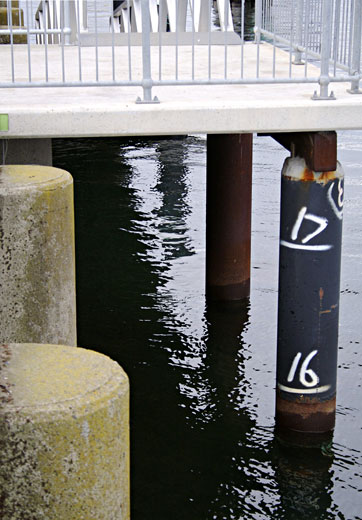 "Caught any fish," she asked.
"Nup, we're more fish feeders than fish catchers today" he replied, as he dribbled breadcrumbs into the water. "Look down there lots of them, look below the shadows and you can see more coming."
"What are you doing here" he said, "You're definitely not a tourist."
"How did you know?" she asked.
"For a start you look happy. So how did how discover this place?"
"Just wandered through the car park wanted to see what was beyond the development. So do you catch many fish then?"
"Yeah, it's a good place," he replied.
"I might bring my son, he's just discovered fishing."
"Well make sure you have a license then. The water police will see you before you even know they are there. We were just sitting here, rods out and admiring a flash looking boat. Before we knew it, they'd landed on that jetty there and were standing in front of us asking to see our fishing licences. They reckon the fishing is really good they said they saw some bloke pull in a great big mulloway."
Under the Bolte Bridge, Docklands.