In July 3rd 2004, twelve substantial apartments go on the market. Within days of being sold 22 residents receive an eviction notice. Some of them have been living at Clarendon for more than 20 years. Some love St Kilda so much they pay the extra money to stay. Others move as far away as possible, the process has been too painful.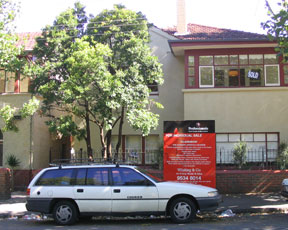 By February 2005 Clarendon, the 'ultimate lifestyle location' goes on the market within weeks, most are sold. Some of the new neighbours have started moving in. J wonders what they will think about the dealers in the Seven Eleven carpark next door.
posted March 17 2005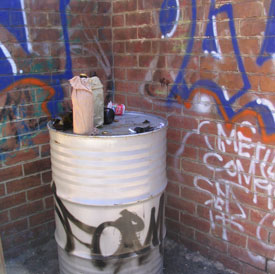 There's nothing like a laneway in the urban setting but J reckons the alternative entrance to Safeway off Acland St is a real stinker. The dumpsters from the supermarket are disgusting but it's a great cut through from to Vegout Community Garden. This little arrangement brightened her day.
posted March 18 2005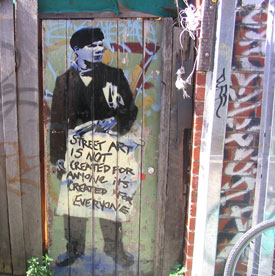 Last year there was an article in the Sunday Age about how St Kilda was fucked, taken over by the yuppies. The writer who used to live here had come back for a day visit. She had a litany of criticisms that was backed up concrete evidence; like no political grafitti. It seems everybody has an opinion about St Kilda, especially people who have moved out. So many flats, so many people moving in and out.
posted March 21 2005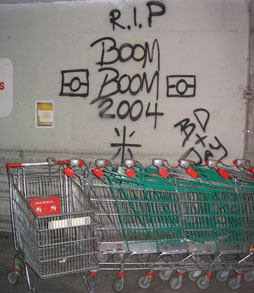 On Friday 18th March a plaque was installed in Cleve Garden (in Fitzroy St) to remember Boom Boom. More than 50 people attended to recognise his specialness.When he died on 8th June last year a spontaneous memorial was made in Safeway carpark. It's still there.
When Boom Boom was alive, he would do his rounds every morning checking on the homeless people who lived in St Kilda. He'd check to see if they were alive or if they needed help…. blackfellas and whitefellas alike.
He always said "There is no community without unity".
posted March 22 2005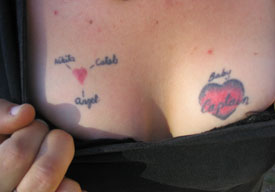 Michele had the tattoo on her arm covered over with a heart.
But these 4 names will stay forever. They are her three children, Nikita, Caleb and Angel, and the fouth, Baby Captain who is with the angels.
posted March 23 2005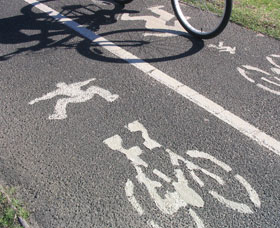 Found – Elwood bike path
posted March 24 2005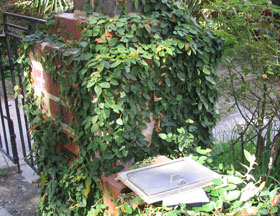 Found – envelope next to letterbox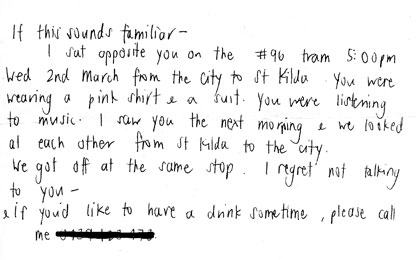 Found – contents of envelope found next to letterbox.
posted March 29 2005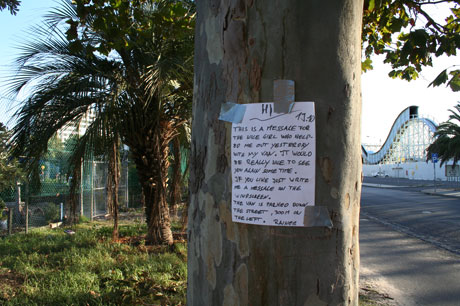 This is a message for the nice girl who helped me out yesterday with my van.
It would be really nice to see you again sometime.
If you like just write a message on the windscreen.
The van is parked down the street.
Found – Shakespeare St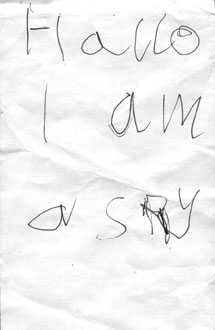 Five years ago a man broke into our house. It was around midnight and I got up to go to the toilet. I was half asleep. As I walked into the bathroom I saw a figure move. I said my husband's name P, but there was no reply.
I walked out of the room and went looking for P, he was in another room. I said "there's a man in the toilet". P looked at me as if I was dreaming and pushed ahead. I stumbled behind, searching, "why is that man in our bathroom?"
At that moment a hooded figure burst out of the room, hand raised. As he brought the screwdriver down, I was sure he was here to kill P. I screamed and begged "please don't hurt him". As he looked at me, I realised it was a bungled robbery. I got between them and flung open the door. "Get him out, get him out", I shouted.
A couple of months later I found this note in the letter box. I was terrified, now I just laugh.
posted March 30 2005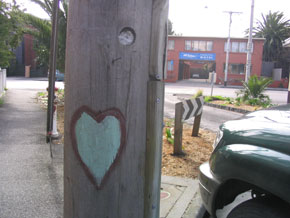 Found – Foster and Carlisle St beat
(not for the working girls)
posted March 31 2005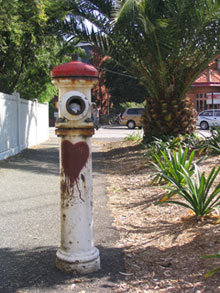 Found – Foster and Carlisle St beat
posted April 1 2005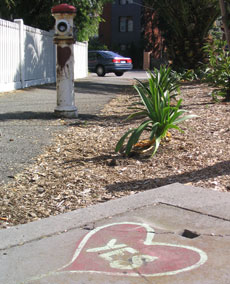 Found – Foster and Carlisle St beat
Are you still together?
posted April 4 2005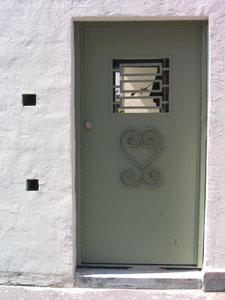 Found – Corner Clyde and Acland St
posted April 5 2005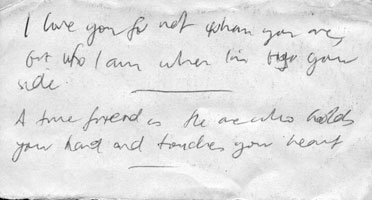 Found – Barkly St
I love you for not whom you are, but whom I am when I'm at your side.
A true friend is one who holds your hand and touches your heart.