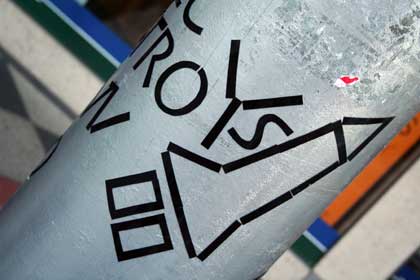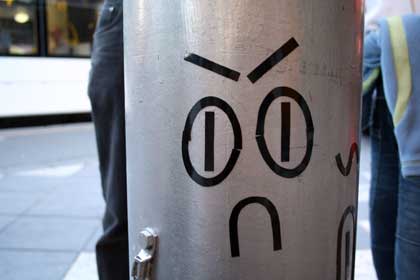 posted October 6 2005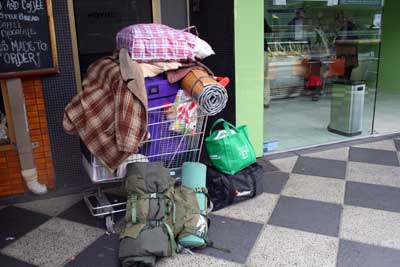 Toby's moving on.
posted July 7 2005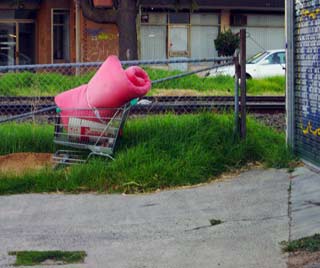 and a few weeks later…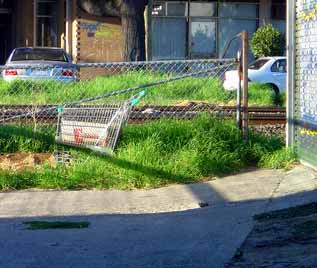 The futon-trolley connection. As seen in Neighbourhood character #6, and in my neighbourhood – Carnegie. The futon disappeared and the trolley stayed… who knows why.
by Marcia
posted June 23 2005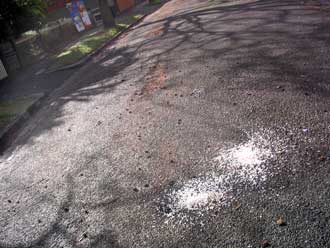 Another bean bag spills it's guts.
posted June 2 2005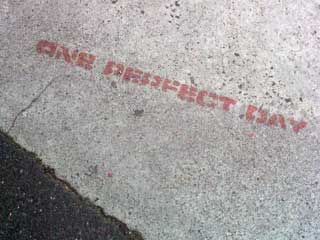 The thing I love about St Kilda is that we share it. We share it with the tourists on sunny days. We share it during the St Kilda Festival, the Gay Pride march and the Grand Prix. With sharing comes variety and excitement, the petrol heads can enjoy the pride march and the pride marchers can enjoy the petrol heads – what ever revs your engine!
St Kilda also has different shifts: day, afternoon and night. They have distinct moods. Sometimes the shifts don't mix and you end up in a shift you don't want. But like Melbourne weather you just have wait and another shift will come along.
I'm happy to share St Kilda – even with families from the 'burbs.
Greg Day
posted May 12 2005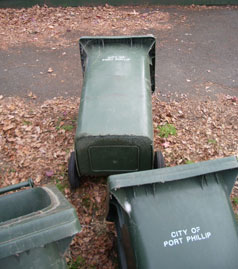 Found: Foster Ave
Image: Holly Hawkins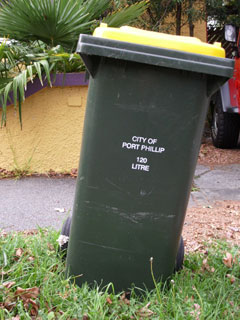 Found: Foster Ave
Image: Holly Hawkins
posted May 11 2005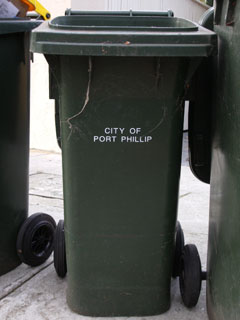 Found: Foster Ave
Image: Holly Hawkins
posted April 29 2005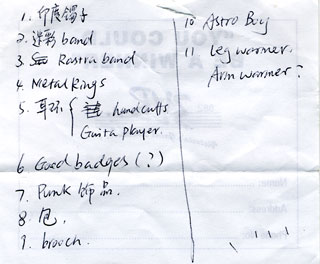 Found: Grey St
posted April 14 2005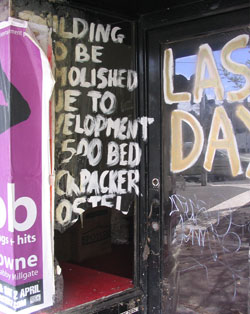 Found: Corner Grey and Barkly Sts.
St Kilda is a suburb that never stops changing, its always turning a corner and for the moment it has turned a corner that is of less and less interest to me – with the rising prices, the yuppies and the 'chain store shopping mall' that Acland St has become.
Ironically, there's hope in the arrival of the backpackers who are now a major part of the Acland St scene. They are already starting to drive the yuppies and the baby boomer pre-retirees nuts and we might even be seeing the de-gentrification process starting. Who knows?
Text – Martin, Tennyson St
posted March 23 2005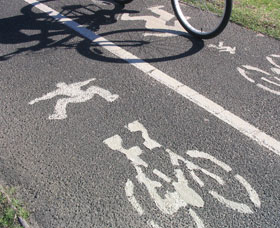 Found – Elwood bike path
posted March 17 2005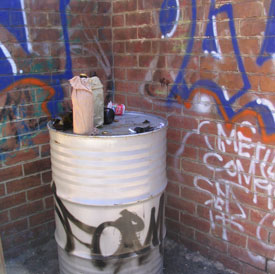 There's nothing like a laneway in the urban setting but J reckons the alternative entrance to Safeway off Acland St is a real stinker. The dumpsters from the supermarket are disgusting but it's a great cut through from to Vegout Community Garden. This little arrangement brightened her day.
posted March 15 2005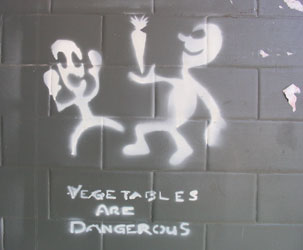 Found – Carlisle Street 'beat'
posted March 8 2005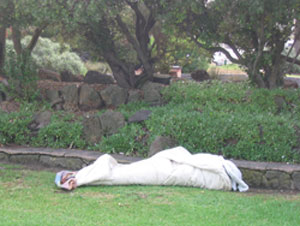 9.30 this morning J sees this bedding, she gets off her bike to take a photo and realises there is a sleeper in inside. She thinks about all those mattresses going to waste near her house.
You don't see people sleeping out so much now. St Kilda's changing… another wave of sadness hits. The rent has gone up but it's still free to sleep in the park. J tells her friend F about the photo, who says "you didn't take it did you". J confesses that she had already pressed the button before she fully realised the bundle contained a person. F said in a disgusted voice "that was somebody sleeping".
J said "but all you could see was bedding", but she is still wondering ……..
posted March 4 2005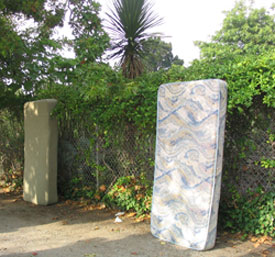 J is taking a photo of more mattresses and sees K. She tells her that their conversation about dumpimg furniture has prompted this investigation.
K says "I can't understand why people think they can just leave rubbish on the street".
"I guess some people think they are being helpful by doing a bit of recycling. replies J.
Then she tells K about her neighbour who emptied the contents of his house into a skip. He was renting it out and was on a flying visit from Singapore where he lived most of the time.
J couldn't stand the waste so she asked if she could salvage some of his rubbish. "He was really embarrassed and so was I, but in the end we both jumped into the skip and retreved all of the good stuff". Some of it sat in the front garden for weeks until it was re-distributed through rooming houses, neighbours and Sacred Heart.
K said "oh if I see a something that's good I always pull over and pick it up . My husband hates it".