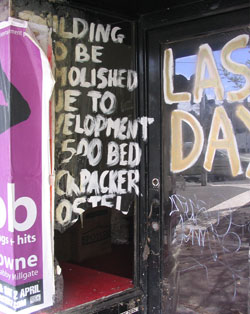 Found: Corner Grey and Barkly Sts.
St Kilda is a suburb that never stops changing, its always turning a corner and for the moment it has turned a corner that is of less and less interest to me – with the rising prices, the yuppies and the 'chain store shopping mall' that Acland St has become.
Ironically, there's hope in the arrival of the backpackers who are now a major part of the Acland St scene. They are already starting to drive the yuppies and the baby boomer pre-retirees nuts and we might even be seeing the de-gentrification process starting. Who knows?
Text – Martin, Tennyson St